Call me Mr. 100% because I do everything to perfection - Basil Rajapaksa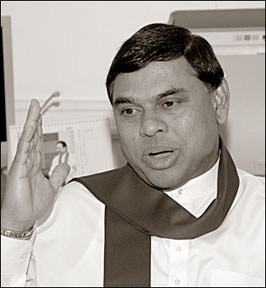 President Rajapaksa's younger brother and his Advisor Basil Rajapaksa, who was sworn in as a Member of the Parliament last week amidst strong protests by the Opposition MPs, says that he hopes that the Janatha Vimukthi Peramuna (JVP) will not get caught in the UNP's trap, which changed its stance from federalism to unitary just to grab power. In an interview with the Sunday Observer Rajapaksa said that the JVP which is a very responsible party would not take hasty decisions.
Following are the excerpts
Q: Can you elaborate about your experience in the political arena?
A: I think a very few people have birth certificates which state that the father is a Member of the Parliament. From the day I was born and from the day I could understand something I am in the politics.
After my father's death in 1967, my brother Mahinda Rajapaksa came into politics and I was behind him since then. I stepped into active politics through the Youth Organisation of the Sri Lanka Freedom Party (SLFP). Then I was appointed as the General Secretary of the SLFP Youth Organisation and then became the Assistant Secretary of the party. Later I worked with the late President Ranasinghe Premadasa and the late Minister Gamini Dissanayake.
Q: What made you to turn green?
A: At that time I was a key person of the Anura - Maithri group but encountered some problems with the SLFP. Then I started working with Minister Gamini Dissanayake not as a politician but as an official. However, I had stopped all my involvements in active politics for some time as I lost my civic rights after an election petition.
But, I started my political career once again in 1994 by supporting my brothers - Mahinda Rajapaksa and Chamal Rajapaksa. I was with the UNP for only two election campaigns and since 1994 I supported President Rajapaksa in every campaign.
Q: You mentioned that you lost your civic rights after an election petition. Did you engage in any form of election violation?
A: It was due to a speech which I made during the election when I was in the UNP. I lost civic rights for six years and quitted active politics.
Q: You were with the UNP and do you see any difference in the present UNP leadership compared to those who were in the UNP at that time?
A: Yes. I see a vast difference. For Ranil, power comes first and then only he thinks about the country. I think there might be reasons for him to think about coming to power because several times he lost the chance to come to power. Now he has betrayed his policies and also the party policies just to grab power.
At the beginning during late President J. R. Jayewardene's regime he talked about a unitary solution, then he talked about a federal solution and now he is likely to talk again about a unitary solution to grab power. So he is more power conscious than solving national problems.
Q: Amidst strong protests finally you have been sworn in as an MP. What is your comment about the misbehaviour of your colleagues from the government and the opposition?
A: I do not think that the Government MPs misbehaved. I believe that every action has a reaction and what the government MPs did was they reacted to the opposition MPs. So, action of the opposition was the cause for the reaction of the government MPs. Actually it was sad to talk about their behaviour. However, I was not shaken by their misbehaviour.
Q: What was your feeling at that time?
A: I did not have any feelings against them, but was happy because it was a great honour to me to enter the most prestigious institution in the country. The first Rajapaksa - D.M Rajapaksa- entered Parliament 71 years ago. So, I am the eighth Rajapaksa to be there.
Though I did not have any feeling against my misbehaved colleagues I felt that a great responsibility lies ahead of me. Basically that was in my mind and I did not bother to take seriously the uproar in the Parliament that day.
But I must say that several MPs in the UNP did not participate. And even MPs of the Janatha Vimukthi Peramuna (JVP) and the Tamil National Alliance (TNA) did not come forward to protest.
They personally told me that they do not approve of the misbehaviour of those MPs and the things that happened. However, later those MPs who made a big uproar apologised to me personally. Today, though I do not forget this I will forgive those who acted in that manner.
Q: The media carried contradictory opinions by Minister A.L.M Athaulla over your appointment. How do you see these two different statements?
A: To my knowledge he has never said that he was against this appointment. He never gave any interview on this issue to other papers except the Asian Tribune, where he says to strengthen the hands of the President that I should be there in Parliament.
I have been nominated by his Muslim National Congress. He is a very loyal, trustworthy and faithful friend. He is one person who told me that I should be in Parliament.
Q: SLFP dissident MPs Mangala Samaraweera and Sripathy Sooriaarachchi strongly alleged that you played a major role in the alleged secret deal with the LTTE and the government. What do you have to say about this allegation?
A: One thing is that I do not know whether there is such a secret deal with the LTTE. And I am 100 per cent sure that there is no such deal by the LTTE with President Mahinda Rajapaksa or any other member of his party.
But I do not know whether the opposition have entered into such a deal with the LTTE. On the other hand, the Prime Minister clearly mentioned and reiterated in Parliament that there was no such deal between the Government and the LTTE. The opposition have asked for a Select Committee on this issue and now the Government has appointed a Committee look into this matter. So let's wait and see.
Q: Did you meet the LTTE with these two MPs?
A: I never met anybody with them. Especially I have not met anybody with MP Sooriaarachchi. With him I have not even gone to a funeral. But in the case of Mangala Samaraweera, yes I have met many people with him but surely not the LTTE. Mangala is a good friend of mine.
Q: What kind of connection did you have with the LTTE before the election?
A: No. I did not have any connection with the LTTE. I do not know who are LTTEers and who are not. Every Tamil person is not an LTTEer.
I have Tamil relations and many Tamil friends. During the election campaign many Tamil people worked for us. There might be LTTEers among them but that does not mean that I met LTTEers.
Q: Many people, including political parties in the opposition blame the Government for bringing more Rajapaksas into main stream politics to strengthen the so-called Sahodara Samagama?. Do you think this allegation is justified with your appointment?
A: Rajapaksas have been in politics for decades. The Constitution allows the President to choose some of his staff. When President Mahinda Rajapaksa was elected for six years as the Executive President he has the right to select people to run the country more effectively and efficiently.
So he has selected several people who were with the earlier government such as Dr. Jayasundara. Then he had chosen some people such as his Secretary Lalith Weeratunga, who worked with him when he was the Prime Minister. Then he brought some outsiders such as Nivad Cabraal. Then he selected my brother Gotabhaya Rajapaksa as the Defence Secretary and even Army Commander Lt. General Sarath Fonseka. Likewise the President has a right to bring several people into the government. So he has chosen his relations, friends, outsiders from the party, government officials and his brothers. I was chosen to hold a post in the Presidential Secretariat. Appointing people who are very loyal and close to him as presidential staffers is not new. Members of the Kennedy family, Castro's family and Kim Il Sung's family held key positions in their governments.
The selected people have different types of capabilities. The capabilities which I have will be different from the capabilities of my brother. Capabilities of each individual are the most vital aspect that the President Rajapaksa look into when selecting his staff. Other qualities are trust and the honesty.
Some people whom he selected were not upto the standard and he removed them from their posts or gave some other posts in which he thinks that the person is more capable to handle.
No other government has removed officials from the top posts due to their poor capabilities. During a short period nearly ten Chairmen have been changed and he did not consider his friendship when removing them.
There are some close friends of the President among them. They have been removed and given other responsibilities. Some such top officials have been brought before the law too. He has chosen people on merit, loyalty, capabilities and trustworthiness.
Q: To what extent is it true that you are the most capable member of the Rajapaksa family to enter into secret deals such as the alleged LTTE-Government deal and to secure cross over MPs?
A: I do not know about it but frankly when Mahinda Rajapaksa became the President he met all the party leaders including the Prime Minister, Mangala Samaraweera, Maithripala Sirisena and other party leaders and members. We discussed about securing a majority in Parliament and about our future. There we found that we did not have majority support in Parliament at that time.
We all agreed to discuss with other parties to secure their support and to invite them to the government. Various people including me were given the task of discussing with these political parties such as the UNP, CWC, Muslim Congress and the Up Country People's Front. So we discussed with them and we managed to get their support but in some missions we failed. So it's not I alone who undertook the task but others. Sometimes it is difficult to work with these parties as they have their own party based policies but anyhow we are managing and working together upto now.
Q: As a key Government figure who is engaged in the rehabilitation process in the Eastern region, to what extent do you justify your brother? Defence Secretary Gotabhaya Rajapaksa's statement that there won't be any political solution until vanquishing the terrorists?
A: It is a fact mentioned under Mahinda Chintanaya. To have an honourable peace both parties should be at equal levels. If you agree to something because of threats you cannot call it an honourable peace. I think Ranil Wickremesinghe signed the Ceasefire Agreement (CFA) because he was threatened in a way. We know that there are grievances among Tamil people.
Any solution that we agree upon must be decided without fear. While we engage in military attacks, the Tamils should be made to understand that they cannot get anything from terrorism but they can get more from negotiation with us.
They should remember that during the past everything that they got is through negotiations. But during the CFA we were like hostages.
Q: Is it true that you will be given a ministerial post soon?
A: According to the Constitution the President can appoint a Minister. So he has to decide and I do not know anything about that yet.
Q: If you are appointed as the Minister of Nation Building what would be your priorities?
A: At the moment the Minister of Nation Building is the President. And there are young capable Ministers under him as his assistants.
I am also involved in this Ministry which is one of the very effective Ministries which is highly involved with the Mahinda Chintanaya based on building the individuals, family, the village and the nation. Nation building is based on Gama Neguma.
We are also from the village and if we want to develop this country and our people we have to develop the village. Because over 80 per cent of the people including the estate sector live in villages. So priority will be given to develop the village. Whether I am a Minister or not under the advice of President Rajapaksa I will work to develop this country.
Q: It seems that the UNP has changed its stance from federalism to the unitary system simply because they want to get the support of the JVP. If the JVP agreed to this what would be the future of the Government?
A: If the UNP truly, honestly and genuinely accept that the national problem can be solved through a unitary solution it is good news. Because I think the only leader, who has the courage in the recent history, to say that this problem can be solved through the unitary system is President Mahinda Rajapaksa. Before him, nobody was willing to say so. Some leaders came with the unitary idea just to please some political parties.
But frankly federalism is not a solution to this problem. So if the UNP agreed to this, it is a victory for this Government. The people gave a mandate to the President to retain the unitary status and they defeated Ranil Wickremesinghe who is in favour of federalism. But if the UNP changed their stance just to grab power and grab some people, it is very unfortunate.
I do not think responsible parties such as the JVP will fall into this trap. They are very knowledgeable and they do not take hasty decisions. I know them well because I have worked with them very closely. So I am sure that the JVP is a very responsible party.
Q: Are you sure that the Government cannot be toppled as claimed by the UNP recently?
A: Pledging to topple a government is a very normal thing of an opposition. Whether it is the UNP or not, the opposition will always talk about changing the government. But this Opposition is little different from the other oppositions that we had.
Sometimes they do unethical things. And the things that the present Opposition Leader does are never resorted to by other leaders.
He betrays the country just to grab power. But we take their hopes of toppling the government very seriously because they sometimes do very vicious things.
We take these seriously especially because of the behaviour of the leader of the Opposition. With the help of anybody, they will do this. There are lots of ways to defeat a government.
I must say one thing that as long as the people are with the government the opposition can not do so because the people of this country are the strength of the government. We believe in the people of this country.
I think we are with the people and the majority of the villagers are with us. Therefore, the President and the government is ready for an election. There might be a few elections in the coming years, so I hope the opposition can test their power.
Q: Very recently Sripathy Sooriyaarachchi said that another group of 15 SLFPers would join the opposition. Do you have any hint about this predicted cross over?
A: Now these type of talks are there. The history of crossing over did not started recently. It has happened since independence.
Some people have gone to the opposition and some to the government and some remained independent.
The President thinks that anyone can come or go according to his or her own consent. So, I cannot say about numbers but there can be movement from this side to this side and from this side to that side. It is democracy. But I do not think, as long as the people are with us, that anybody will leave the party.
Q: The Opposition displayed placards printed with 10 per cent when you were sworn in. Why do they call you Mr. 10 per cent?
A: I do not know why. I must ask them. I prefer if they can call me Mr. 100 per cent. When I am doing something I do it 100 per cent accurately.
Even in the election campaign I gave 100 per cent of myself to win and every election which I gave leadership in the recent history I was 100 per cent devoted. Even under humanitarian tasks given to me by the President, such as sending humanitarian assistance to Jaffna and looking after the displaced people in the Eastern region I was committed 100 per cent. So I prefer if they can call me 100 per cent because I do not do things halfway.
Q: Why were you not bothered to ask them even after the uproar about what they displayed?
A: No. I did not bother because I did not know it was for me until I saw it in the papers.