Kashmiri women venturing into politics to fight for rights
JAMMU - Having suffered hugely from years of relentless violence, women in Jammu and Kashmir are fast taking to politics to fight for their rights.
Women, they say, are not represented adequately and not much is being done for them in a state where families, particularly girls and women, have borne the brunt of suffering since insurgency began in 1989. By joining politics they want a space in the decision-making process, they say.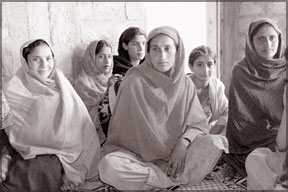 For years after independence, Begum Akbar Jehan, also known as 'Madr-e-Mehraban', wife of legendary Kashmiri leader Sheikh Mohammed Abdullah, was an iconic figure in Kashmiri politics.
In 1996, another Kashmiri woman, Mehbooba Mufti, made a mark. She was among the two women elected to the legislative assembly along with Sakina Ittoo, daughter of a National Conference leader.
But it was Mehbooba who took centre-stage, despite the fact that Ittoo was a minister in the National Conference government. Mehbooba overshadowed even her male rivals by her articulation and especially by highlighting the human rights issues and the plight of women in Kashmir.
Mehbooba moved a step further when she co-founded a new party - People's Democratic Party - in July 1999 with her father Mufti Mohammad Sayeed, led a powerful campaign to win 16 seats for her party and propelled her father to the post of chief minister in November 2002.
"I have learnt everything from my father, but the women found a special relationship with me," she observes in her interviews.
Mehbooba's success in politics and her courage in visiting dangerous places and meeting people in the remotest of areas has inspired a new crop of women to join politics.
Darakhshan Andrabi, who holds a doctorate and is an Urdu poet, has also made it to politics under the banner of her party - Socialist Democratic Party. Hers is a greater challenge. "I talk pro-people and I am a nationalist," she says.
Andrabi, always dressed in white, pursues a vibrant pro-India line in the Kashmir valley, where her views are considered a taboo. She is the one who challenges the secessionists, their ways, means and agenda.
"What have they given to the people", she asks and answers: "Death and destruction."
She has already declared her intention to field 30 candidates in the assembly elections, due next year.
As more women are coming to head political parties, and several others are making it to key positions in political groups, educated women are quitting their jobs and joining politics.
One such example is that of Shehnaz Ganai. She left government employment and ventured into a political career. Ganai joined the National Conference.
"I have a mission to serve the people and I think that being part of the political system, one can do it better," she feels. "Instead of making others to represent us, why shouldn't we represent ourselves? It is high time we did that." IANS