International Elders Day:
Is the nation prepared to face the challenge?
As Sri Lanka joins the world community in celebrating yet another International Elders' Day, the focus has, once again, been on the increasing population ageing and its widespread long term repercussion on the entire social fabric.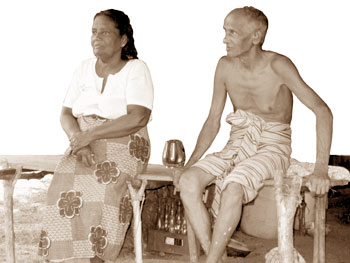 Sri Lanka experiencing a major demographic shift in the age pyramid from younger population to older, the proportion of the population over 60 years has dramatically increased from 5.3 in 1953 to 10.8 per cent in 2003, making it the fastest ageing population among the developing nations.
It has been forecast that the ageing population will further rise to one quarter of Sri Lanka's population by 2030. It is apparent that this ageing population will put an added strain on Sri Lankan economy which is already being affected by terrorism and the declining tourist arrivals, tourism being one of the principle sources of foreign exchange.
The time is ripe for the policy makers to take this issue into consideration given the profound impact that this shift of paradigm would make on the economy and the society at large.
Regional-wise the ageing population over 60 -70 has almost double compared to other countries in South East Asia in 2001 and 2030. In 2001, one person among ten is over 60 which is 1 in 21 and 13 people in Afghanistan and India.
According to the forecast, by 2030 Sri Lanka will expect to have 22 per cent of population age over 60 or 1 in 5 over 60. However, other countries in the region are expected to have a somewhat lower rate, 1 in 18 in Afghanistan and 1 in 7 in India.
The situation is further compounded by the unprecedented increase in the median age in Sri Lanka, from 26.9 in 2000 to 39.2 per cent in 2030.
The shift of paradigm
Observing the demographic changes that took place since the first census conducted in 1871 and the last in 2001, there is a shift of paradigm of young population which steadily rose before 1950 up to 1971 with the increase in fertility rate and due to the rapid decline of infant mortality (IMR) and maternal mortality rates (MMR), to the older population over 60 -70.
Since 1990's a major shift of age structure is observed virtually changing the age pyramid. Decrease in fertility rate and increase life expectancy has contributed to this demographic transition. However, this will pose major economic and social challenges as it occurred against the slow economic growth.
Although the traditional Sri Lankan family cares for elders, this trend is changing with a large number of females migrant workers seeking better employment abroad and a large number of rural youth migrating to cities in search of job opportunities. According to the Department of Social Service, number of homes for the elders has increased from 68 in 1987 to 162 in 2003.
This figure excludes the paying homes for elders set up in some urban areas. Sri Lanka had a baby boom about twenty five years ago. This has increased the dependency rate. With the improvement of life expectancy due to the advancement in medical care, Population ageing increased and it will also increase the dependency rate.
However, this has not significantly affected the ordinary family as it was a demographic change from babies to elders. The number of dependency in a household remain static.
Structural change is needed in the economy to cater to population ageing. The facilities such as healthcare, pension. As the Government cannot run pension schemes. The economy has to provide pension to cater to population above 60 years.
As the Government has to allocate more resources on pensions, it will reduce resources for vital sectors negatively affecting the economic growth.
This will decrease domestic consumption and as it is one of the sources of economic growth, the economic growth will suffer. This will also reduce savings and create a vicious circle.
People should change their attitudes and go for new social security schemes such as saving while earning. People's attitude should also change, said Chandana Aluthge, Senior Lecturer in Economics University of Colombo.
Demographic situation
As most Sri Lankans are engaged in unproductive economic activities such as whole sale and retail businesses, real production process is not taking place within the economy.
The population figures have been neglected by policy makers. Policy makers should understand the rapid ageing process in order to tackle issues emerging from it. Economic restructuring is required so as to provide employment opportunities for persons over 60 as they live 17-23 years after retirement (male 17 years and females 23 years). Measures such as compulsory age of retirement could be extended up to 65.
Lack of social security schemes, primary care-givers for elderly and no proper income for elderly females who could not engage in gainful economic activities given their low level of education, are some of the issues emerging from population ageing.
Socio-economic implications
The economic implications of the ageing population will extend to the areas of social security schemes such as pension, ETF, EPF to the health sector where considerable expenditure will be incur from special drugs for elders and from the improvement of infrastructure to cater to their specific requirements.
Against the rising inflation, the EPF, ETF or a lump sum received at retirement is insufficient to cover day-to-day expenditure on medicine. They also cannot depend on interest rates as interest rates are low. This situation would further worsen given the impact the government pension schemes make on the Gross Domestic Production (GDP).
Expenditure on pension per GDP has risen from 2.4 per cent in 1994 to 4.2 per cent in 2002.
In the health sector, facilities to treat chronic illness such as heart disease, kidney failures, censer would have to be increased and it is expected that sanitariums for bed-ridden elders and the government will have to spend a large amount of money on expensive drugs for the elders to treat chronic diseases and expand theatre and dialysis facilities for patients suffering from kidney failures.
Tribal burden on working population
The age dependency ratio which indicates a number of persons depend on the work force is also expected to rise further burdening the economy. According to Department of Census and Statistics, the aged dependency ratio has increased from 9.4 per cent in 1946 to 15.4 per cent in 2001 and is expected to increase to 41 per cent in 2041. Six workers support one aged in 2001 will rise to two workers supporting one aged by 2041.
It is high time that policy makers take the population factor into consideration in formulating development plans as this vital factor will adversely affect the long term prospects of realizing development goals.
---
If tomorrow never comes...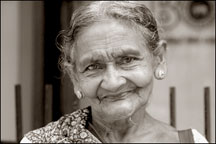 The syndrome is irreversible as solitude, seclusion and some times even isolation takes the better of them. Closing in on ones sixties, the ageing process seems to find no solace but a void instead; loneliness and emptiness the only companions left to run the rest of the race, till death do us part.
Sad, yet so challenging, a fact of life, irrevocable. Today being International Elders' Day makes us stop to ponder on the facts of life; are we ready to face actuality sooner or later like those yearning for the tender loving care of their children and kith and kin.
Where have all the flowers gone? Once a paradise wrapped in the warmth of the love and care of their children, their home is now a home far away from home, a life of yearning and tears; an Elders' Home, a common phenomenon in Sri Lanka today.
Visiting the Homes and speaking to these elders you would only see sorrow, distress and pain; so hurting and helpless as it were all around you that surpasses all understanding as it seems and engulfs you too into deep emotional anguish.
Their common cry of woe, to see their son or a daughter soon or nostalgic memories of their unforgettable ancestral home and the feeling of belonging, seems lost in time. For some of them months and years have gone by, 'the children and grandchildren have no time' to spare to make a telephone call and inquire-not even glance at them some times as they pass by, so near and yet so far are the lives of most children today.
No second to the developed world, we Sri Lankans have also fallen into the same trend, a throwaway culture.
Alarmingly, statistics of the seminar on the Social Health and Economic consequences of ageing population held in Bangkok in August reveals that fifty two per cent of the world's ageing population is in the Asia Pacific region and will rise to 59 per cent by 2025 while the Population Division, Department of Economic and Social Affairs, United Nations Secretariat says that as the tempo of ageing in developing countries is more rapid than in developed countries, developing countries will have less time than the developed countries to adapt to the consequences of population ageing.
As a result the impact on the social, economical and health implications of these older persons will be a major challenge faced by many countries in the region, including Sri Lanka.
As the traditional means of family support are steadily eroding in most societies and healthcare infrastructure is already weak in many countries of the region, the additional burden of caring for older persons will further stretch it.
The rising number of older persons on the one hand and the declining number of younger population on the other will mean that there will be a shortage of caregivers for the older population.
This is soon becoming a reality and a huge crisis in the developing world. Statistics also show that this could be attributed to the fact that many youngsters have moved to main cities from the rural areas leaving behind their elderly parents in their villages, in search of healthier employment opportunities for the betterment of their economy and future, nearly another 1 million are engaged in the country's longstanding civil war, in the war front, far away from their homes, More than 2 million have gone abroad seeking employment and another 1 million, educated professionals, skilled or otherwise have migrated to other countries seeking better prospects among the reasons for the shortage of care givers.
With yet another International Elders' Day celebrations let us make a firm pledge today to go that extra mile for the elders in our society and have no regret, for tomorrow may never come".