Back to primeval splendour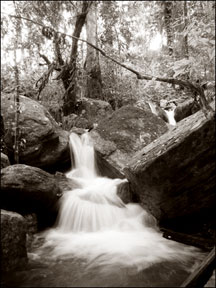 Pristine splendour
An eerie cry like a woman in labour, is not uncommon in Mahausakanda Kele. Some people believe it's the cry of Karamal bodilima (The Hump-nosed Lizard) or the spirits it's possessed with. The Hump nosed Lizard is one fascinating specimen out of the hundreds of thousands of exquisite flora and fauna in the Mahausakanda regenerated rain forest.
Situated at the foothills of the Bambaragala Mookalana, Mahausakanda protected area used to be a small patch of neglected rubber about 16 hectares in extent, located in Kiri-ealla, Ratnapura.
During a period of about 15 years when it was left alone to grow wild, the seeds transferred from the adjacent forest has stimulated the natural growth of many of the forest species. With nature trails across different habitats a visit to the Mahausakanda regenerated rain forest is educational, recreational as well as breath taking.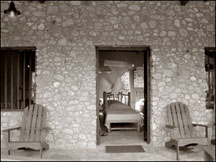 We went through the winding road that was flooded on either side by the torrential rains from the past two days; an ecologist and two journalists cramped in the passenger seat of a Jeep, with blocked ears. But no amount of discomfort was to take away our elation at seeing the magnificent waterfall around the bend - the Bambarakanda falls.
Implemented by the Ellawala Foundation, a charitable fund, the whole concept is a long awaited wish come true for all concerned. Originally an ingenious idea of late Mr. Lyn De Alwis, former director of wildlife conservation and the Zoological Gardens Dehiwala, a group of environmentalists and ecologists came together to regenerate a rain forest at Mahausakanda in 2004 and was registered and legalized in 2005.
Nalini Ellawala, the coordinator, told the Sunday Observer "At one time sustaining the estate was so expensive that we even considered selling." She has spent over 10 million of her own money on this project. "It costs almost Rs. 70,000 per month just to sustain the project."
She explained that preserving this fragile ecosystem is of utmost importance for the benefits it provides, such as conservation of bio-diversity, services for human wellbeing, contribution to the minimizing of global warming and educational and recreational purposes.
Rain forests like the one in Mahausakanda can assist carbon sequestration - the extraction of carbon dioxide by plants. Less than 5% of total land surface remains as rain forests in Sri Lanka today. Trees are the main source of air purification. Loss of more trees can mean more pollution.
Nalini Ellawala says the response since its legalization in 2005 has been extremely good. Six young men from the village were offered employment as guides and trained on the principles of conservation and re-generation. With a pen and pad still in hand the guides accompanied us along the track.
With the passage of time they have turned in to a quite capable and knowledgeable group much to the satisfaction of their trainers and Nalini Ellawala herself. Apart from replantation efforts several other activities have been implemented with and for the benefit of the locals such as the manual removal of invasive species, development of research facilities, awareness programmes and education programmes for students of local schools.
A women's society and school level projects are now under way. The project has direct contacts with 450 to 500 families of the area, helping them improve their living conditions through cottage industries such as production of Kithul treacle, bee's honey and handicrafts such as the production of greeting cards, paper bags made of recycled paper and used news papers.
Dr. Channa Bambaradeniya Coordinator, Asia Regional Species Conservation Programme, IUCN told the Sunday Observer that exotic species such as Pinus and Eucalyptus are not only harmful to native species in forest regeneration, but also dries up the soil.
This type of project could be used as a modal by the private and government sectors alike, for other similar reforestation projects. Dr. Bambaradeniya explained the significance of Mahausakanda as a rain forest "Imagine if there wasn't a rain forest here. The low laying lands would be subjected to flash floods.
This regenerated rain forest acts like a sponge soaking up access rain water." The main reason for this certain project to be a success is because of its annual rain fall of over 3500mm, this helps quick growth, but without the rain forest the low laying lands would have to face the full fury of access rain water.
Dr. Manoj Fernando Executive Director, Melmadura, explained that most people seek economical benefits even in conservation. He further explained that this was a win-win situation where conservation can also directly support human wellbeing. "Human scope of enjoyment is very narrow; some think they can only enjoy life by getting drunk or earning more money.
What's required is to develop a link between human wellbeing and wildlife conservation, but some thing beyond simply enjoying wildlife - we have to enjoy it while acquiring knowledge." Prohibition of alcohol within the premises is to rehabilitate people who've become highly dependant on alcohol.
At the end of 2006, more than 3000 plants have been introduced to an already existing plant community and are doing exceedingly well having grown to a height of over 2 meters within a period of two years. Mahausakanda Kele is home to at least 200 species of flowering plants, 148 species of vertebrate animals - of which 20% is endemic - and 50 species of butterflies.
The birds observed included six species of winter migrants as well. And a wealth of information on undiscovered species, wait unearthing. A total of 06 species of freshwater fish, 11 amphibians, 33 inland reptiles, 84 birds, 20 mammals, 148 vertebrates, 50 butterflies, 200 flowering plants has been found to date. Some of the woody plants found in Mahausakanda Kele include Batu Na, Milla, Kitul, Waldel, Hora, Rukkattana, Dawata, Gal veralu and Wal bombu.
Some of the fresh water fish found in the plentiful streams and ponds of Mahausakanda are Striped Rasbora, Giant Danio and the endemic Banded Mountain Loach. Calls of amphibians such as the endemic Wrinkled Frog and several shrub frogs are quite common during dusk.
Commonly encountered reptiles include lizards and skinks. Sri Lanka Lorikeet, Sri Lanka Layard's Parakeet, Pompadour Green Pigeon, Sri Lanka Yellow-fronted Barbet and the Sri Lanka Grey Hornbill are some of the birds that guests can encounter at the forest.
Mammals that have made their home here include the Wild boar, Black-naped hare, Mongoose and Mouse deer. Other visitors to the area include the rare and nationally threatened Otter and Fishing cat. Butterflies range from large species such as the Blue Mormon to small species such as the lycaenids and the Birdwing. Plus there are 125 species of bees in Mahausakanda.
"The distribution of seeds through bats and birds are immensely beneficial for the expansion of the forest." Explained Dilup Chandranimal, the volunteer flora conservation advisor of the group. These animals also assist the pollination process.
This is a photographers haven with different types of multi coloured spiders. We encountered an Oriental white eyes, a male wood spider - which was much smaller then its female counterpart, a Hump nosed Lizard all in one short trek through one of the numerous nature trails Mahausakanda rain forest offers.
The project has a cottage - with blissful terracotta clay on the floor - which can accommodate ten to twelve people and a laboratory for educational purposes, where wildlife enthusiasts, students and other intellectuals are briefed on the importance of rain forests, bio-diversity of the forest and to identify certain flora and fauna of the Mahausakanda regenerated rain forest.
There are two days worth of observation for travellers who visit the rain forest itself, apart from the Nadun Vihare and the adjoining Kabaragala Reserve.
Something said by Dr. Manoj in his briefing upon our arrival was echoed in Nalini Ellawala's words as we waited for the others to return from a refreshing bath at the Tam Kepu Dola. "There are lots of means of enjoyment even if you spend just one day in the forest.
Through all your senses from morning to dusk" "Did you hear that? That's a migratory bird, it's been visiting the forest for some time now" explained Nalini Ellawala obviously enjoying this pristine splendour.