Today is World Heart Day:
Where do you stand?
A warning has been issued by The World Heart Federation on cardiovascular disease (CVD) a global epidemic, which currently contributes to just under a third of global mortality today.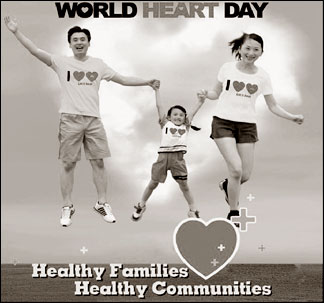 CVD is more prevalent in females ,killing 8.5 million women a year, accounting for half of all deaths of women over 50 in developing countries. It has been identified that throughout the world there are now more overweight than underfed women and more than 100 countries are expected to take part, in a bid to reverse the rapid spread in obesity and diabetes, believed to greatly increase the risk of heart-related disease.
Heart disease and stroke are the world's largest killer, claiming 17.5 million lives each year and thus World Heart Day was created in order to create public awareness of risk factors for heart disease and stroke and to promote preventive measures.
World Heart Day was initiated by World Heart Federation (WHF) by forcing the World Health Organization and UNESCO to set one special day to create awareness to the world population towards heart disease and accordingly WHO and UNESCO had agreed to declare the last Sunday of the month of September since year 2000 as World Heart Day.
The theme of this year's World Heart Day is "Team Up for Healthy Hearts" and the day's activities include free screenings, walks, runs, jump rope sessions, fitness events, public talks, scientific forums, exhibitions, concerts, sports tournaments and much more.
An exhibition and a Heart Health Walk will be held by the Sri Lanka Heart Association at the BMICH to promote heart healthy living through awareness campaigns today.
Dr S. J. Steven, President of the Heart Association Sri Lanka(SLHA) attributes heart disease to the rising frustration plagued with unemployment which causes stress that kills and urged industrialists and other job providers to be mindful of this alarming factor of stress in youth and to offer them jobs of their choice which would not only bring them job satisfaction but also increase productivity and in turn boost the country's economy.
He said that while in the developed countries the high incidence of death by heart diseases is lowering, it has become the number one killer in Sri Lanka now and today, one of the key risk factors is diet and lifestyle.
Coconut could be considered an equivalent to meat and consumption is not desirable to the heart. Rural women are very high prone to the stress syndrome as evident in the increase in the number of deaths of rural women in Sri Lanka.
Dr. Rohan Gunawardene, Coordinator for World Heart Day, SLHA says that unlike other diseases, the cause factors of heart diseases are many.
Age, genes, smoking, food habits are some factors and some people are unaware as to how to prevent and control it.
Hence, an awareness campaign will be launched today in keeping with this year's theme of "Team Up for a Healthy Heart"; the campaign will be initiated with a walk for heart health and a heart health life style fair.