Awards, awards and more awards
State Literary Awards 2007 - English Laguage: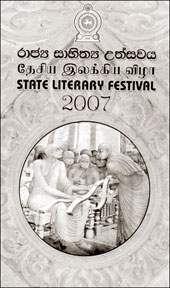 Ever wondered what it is like to win the State Literary Award, apart from receiving that heavy bronze sculpture of a swan which keeps getting plainer and plainer every year, the cheque on which the number of digits has increased, and the comforting knowledge from now on your book will be strategically placed on every bookshelf in every book store across the country?
Wonder no more. Here is what the winners of this year's Literary Awards had to say about this attempt by the state to measure the immeasurable by placing art against art.
In ancient times, they used to kill the messengers who brought bad news. I wonder what happened to those who brought good news? Were they given presents equal to the weight of an elephant or simply dismissed with a pat on their back?
Asgar Hussein, reminding me that times have changed, did neither when I congratulated him two weeks ago and asked him if I could have a cover of his book to be published in Writer's Den the coming Sunday.
"What on earth for?" he wondered.I told him, feeling I must surely be stating the obvious; "Because you won the State Literary Award for poetry this year, "Say that again?' he said, surprised. I repeated my sentence and was promptly rewarded with a heartfelt "Thank you". "You are the first to convey this great news to me" said Asgar.
When I track him down, two days after the Awards ceremony his exultation had still not waned. "I am absolutely delighted" he begins and explains that he had started to write poetry for the first time in his life about two years ago and that "The Termite Castle" is his first published work.
Continuing to talk about his own poetry and Sri Lankan poetry in general he says he had received accolades from critics for Termite Castle because his poems were not experimental. He believes abstract poetry is a threat to all poetry because abstract poems might turn people away from poetry altogether.
"English poetry in Sri Lanka needs a new vigour. One problem with our poetry is that we must move away from domestic matters and beautiful scenery and be more broad in our perspective. A line in a poem should explain a thesis but a thesis should not be needed to explain that line".
Another author who won the State Literary Award this year for her maiden work is Ransiri Manike Silva. "Well... I am happy I won the award" she says and gives credit to her classmate Dr. Lakshmi de Silva for "pushing (her) all the time" till she had finally published her work.
She has no immediate plans of publishing more short stories because she writes only when it pleases her, and only when she is in the mood. Would she write a novel one day?
No, she emphasizes with determination. "I am not a 'novel person'. Short stories are my forte".
*****
Ranisir Manika shared the award with Ishankya Kodithuwakku and her collection - "The Banana Tree Crisis". Ishankya is out of the country and could not be contacted to be interviewed.
Winner of the award for the best translation from Sinhala into English, for her book, In the Midst of Chaos, Padma Edirisinghe says even though she wishes to spend her time on her own creative writing, she does not mind utilizing her proficiency in Sinhala and English to translate what others have written because being an educationalist whenever she writes, she likes to have a "pragmatic purpose in mind".
"The field of translations is not new to me. I enjoy utilizing my talents to introduce the Sinhala readers to English literature and vice versa." She hopes to be "writing, writing and writing in the future too".
*****
Winner of the award for Children's Literature, for "The Witch's Daughter, Janaki Sooriyarachchi says she writes only for children because there is a "small child in my heart and it is this child who writes all my books".
Having already bagged two state Literary Awards simultaneously for Children's Literature in Sinhala and English in 2004, this is her third State award. Feeling very comfortable around children and loving them with all her heart, Janaki makes one simple request.
"Please write about my website where my books are available for free on-line reading, so that children here in Sri Lanka as well as those who are living far away from home will be able to get a taste of their motherland from my books". Janaki's website is easy to remember www.tikiri.com.
Nihal de Silva received a posthumous award for 'Paduma Meets the Sunbird' under the category of Juvenile Literature while Raja C. Bandaranayake bagged the award for Non-Fiction for his book Betwixt Isles which reconstructs the story of the Kandyan prisoners in Mauritius.
*****
Modestly accepting that an award is not an indicator that you write better or worse than any other author but an indication that a panel of judges preferred your work over others Daya Dissanayake who won the State Literary Award for the best English novel for his maiden work, Kat Bitha in 1999 is happy that eight years later he won the same award for his tenth book the Eavesdropper. Undoubtedly this has been a specially good year for him.
His Chandraratnege Bawanthara Charikawa was short-listed for the Godage award and for the Swarna Pusthaka Award as well, which was shared between the five short listed authors.
This means Daya Dissanayake probably becomes the only author ever to win two awards in the same year for novels written in two different languages. Having written most of his ten books both in Sinhala and in English he says he would like to see his work translated into Tamil so that he could share them with every Sri Lankan.
****
Finally, reassuring as it is to receive such recognition for your work, it is hard not to wonder for how long the sense of exultation will last.
Would it last till November like it did for Mark Twain who believed he could live on a compliment for two months, or will it end the day you call the manager of a printing company to ask him if he could reprint your book and have him say "The money you are willing to pay is not enough.
The cost of printing has quadrupled". Having traversed the skies of the literary arena as a star, what more effective way than this to be brought back to earth?
---
Inspiration
For all librarians:
For someone who will soon be flying to Leeds, UK to pursue her Ph D in Library and Information Science, Premila Gamage , the librarian of the Institute of Policy Studies, when I met her a few days ago was one lady in a mighty hurry; but one who still had the time for a brief chat with me.
Having heard she was leaving the country, her colleagues had phoned one another, "Premila is leaving on Tuesday night. We must do something about it." Stop her from going? No. Of course not. "We must felicitate her because she deserves it. This is the first time a Sri Lankan Librarian is holding three positions at IFLA".
Tipped off by a veteran journalist about the event, surrounded by neatly dressed bespectacled librarians, even though I was the only non-librarian at the gathering, I managed to sit through the accolades given to Premila, almost sharing her embarrassment with her. "People, especially your colleagues, praise you to the skies only after you are dead".
So thought I, till now, going by my experiences with some of my colleagues in the media. Apparently things are different with those who safeguard tombs of knowledge. Librarians go overboard when it comes to appreciating a colleague.
According to M.S.U. Amarasiri, Director General of the National Library and Documentation Board, Premila was the unofficially appointed "Foreign Minister" of the Librarians of Sri Lanka not only because she was constantly travelling abroad but also because she knew what was happening, where the conferences were etc.
"She is someone with an outward look. She looks out into the world and realizes that other people's lawns are greener" said a smiling M.S.U Amarasuriya.
When she first started work with him Piyadasa Ranasinghe, the President of the Sri Lanka Library Association, recalls how amazed he was to see Premila's enthusiasm. He remembers her as a young girl who was selected to work in the library. "Her duty was to type the catalogue cards and arrange them in a box.
Within two weeks she learnt the whole art of catalogueing. Whenever an error occurred she would show it to me and say "Sir, you have given this number isn't this wrong?" He had encouraged her to get a degree and says today he is proud to see the results of his powers of persuasion.
As her friend Pradeepa Wijethunge said Premila was a model student, one who studied for the sake of knowledge and not simply for the sake of passing exams.
Professor Russell Gordon, in his brief address said he was proud that Sri Lanka had come into the spotlight through the achievements of Premila. He foresaw a lot of work ahead of her once she returned to Sri Lanka.
Going by her amazing powers of perseverance, Premila seen by her colleagues as a person who thinks a lot, works a lot and talks a lot - if necessary, will undoubtedly achieve a lot for Sri Lanka in the field of library and information science, through her new posts at IFLA.
****
Premila Gamage, Librarian of the Institute of Policy Studies has been elected to the governing board of The International Federation of Library Associations and Institutions (IFLA), the apex body in the field of Library and Information Science at the 73rd World Library and Congress and General Council held in Durban, South Africa.
She is also the Chairperson of the Regional Standing Committee of Asia and Oceania and the Division of Regional Activities which covers Africa, Asia and Oceania, Latin America and the Caribbean.