World Elders' Day:
Love and respect your elders
Most of you may have grandparents who are still among the living. Do you treat them kindly? Of course, most children do. But there are those who are very cruel and unkind to their grandparents as well as all other elders.
Why do they behave like that? Some think that elders are a burden, that they are weak and cannot make any worthy contribution to society. How wrong... People who are now old have made a vast contribution to all aspects of society - to their families, communities and the environment in which they live - in a big way, while some continue to do so. However, they continue to be marginalised in society without getting their rightful place.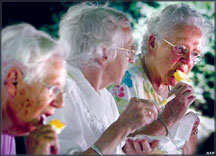 It's with the intention of recognising their efforts and contributions to society that the International Day of Older Persons is celebrated on October 1. It is a special day for governments, non-governmental organisations and society to work together to give older persons their due place in society.
The fact that the ageing population is on the increase may not be a secret to you. The number of persons over 60 will increase from about 600 million in 2000 to almost two billion in 2050.
The proportion of persons defined as 'older' is also projected to grow from 10 per cent in 1998 to 15 per cent in 2025. This growth is expected to be greatest and most rapid in developing countries where the older population will grow fourfold in the next 50 years.
About two thirds of all older people are currently living in the developing world; by 2025, it will stand around 75 per cent. In the developed world, the very old (above 80) is the fastest growing population group.
This situation is the same in Sri Lanka too. Ten per cent of our local population is above 60 years of age and is expected to surpass 25 per cent by 2020. Estimates are that 50 per cent of the population will be over 50 by 2050.
In such a fast ageing world, older people will play an important role - through volunteer work, passing their experience and knowledge, helping their families with caring responsibilities and increasing their participation in the labour force.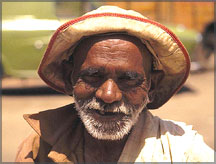 It is also said that 40 per cent of the world's over 60 population is living below the poverty line, without care, dignity, self-fulfilment, social activities or independence.
But they deserve all these, and the issues of human rights for older persons were taken up in 1991 in the formulation of the UN Principles for Older Persons. This provided guidance in the areas of independence, participation, care, self-fulfilment and dignity. These have been further strengthened with the observation of the special day for older persons.
The United Nations General Assembly designated October 1 as the International Day of Older Persons on December 14, 1990, following up on initiatives such as the Vienna International Plan of Action on Ageing, adopted by the 1982 World Assembly on Ageing and endorsed later that year by the General Assembly.
Now you know the significance of the International Day of Older Persons and the importance of the elderly to their respective societies. So, if you have been treating your grandparents badly, change your ways right now. Otherwise, it may be too late and they will be gone forever. Also, remember that you too will grow old and feeble some day. Do you want others to treat you with disdain then? If not, learn to love and respect elders.
They deserve it!