Stars twinkle just for you!
We like to watch the stars up in the sky, don't we? Then what about the movie stars? We like them too. Some of us use them as role models and act according to the characters we see on films and television.
We weep when they weep and laugh when they laugh, both on and off screen. At the end of a movie, they become close to our hearts and we come to love them. It doesn't matter whether they are Hollywood, Bollywood or local stars; they are close to the hearts of the audience.
Child stars of Sri Lanka too find their way into the hearts of children like you easily. Therefore, as we are at the dawn of another Children's Day, we spoke to some of your favourite stars. Let's see what they have to say about Children's Day and what the latest happenings in their star lives are. Let's listen to their voices...
Dasun Madushanka
Profile: Dasun Madushanka Mendis is a student of Prince of Wales College, Moratuwa. His first film was 'Sudu Kalu Saha Alu', but he became very popular through the film 'Sooriya Arana', where he acted as a samanera, a child monk. Then he became closer to the hearts of his fans through the film 'Samanala Thatu'.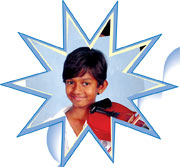 "I'm not at all affected by my talent and the fame I have achieved in society as a child star. I like very much to play and be friends with all the children in Sri Lanka. Even if it is a street child, it wouldn't be a barrier to be a friend of mine. I really like to help the needy and less fortunate children. On this special day, I would be very fortunate if I get an opportunity to do so.
The film 'Prabhakaran' by Thushara Pieris is the latest film I am acting in. There, I play the role of a child soldier. Through this film, I was able to relate to the feelings and life of a child soldier. I even got the opportunity to meet some of them. I really felt sorry for them.
These children don't meet their parents for a long time. Some have not seen their parents since they left their homes. It's a pity that some even die without getting anyone's love and care. Some of the children told me that they saw vehicles and tarred roads only after they ran away from the terrorists and when they were free.
The film was shot in Vakarei, Welikanda and Punani areas. On this Children's Day, I wish all the children a happy and prosperous future. Especially, I wish a peaceful life for the children who suffer from war. May this unfortunate war end very soon".
Kathomi Jasmine Therakava
Profile: Kathomi became popular among children through the children's musical programme Hapan Padura. She also acted in the film 'One shot' and in teledramas like Arunoda Kalpana and Randiya Dahara. Now she is participating in television programmes like Dedunu Yaluwo and Ran Onchilla.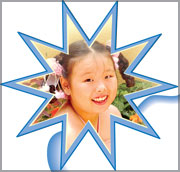 "A Children's Day is a very good concept because it's essential to at least reserve a day to focus on the needs of children. When this day arrives, people start concentrating about the many issues children face and their needs.
They also pay attention to the needy children more than on other days. What I think is that all the children should have an equal opportunity to live happily. I wish all my friends a happy Children's Day. Let's celebrate this day with joy and laughter, not with tears and pain like most children do, unfortunately".
Natasha Perera
Profile: She gained popularity among the children as Elizabeth in their favourite teledrama 'Dangamalla'. Although she is an actress, she is more popular as the singer of the famous song, 'Sulangak vee mang enava' with Visharada Edward Jayakody.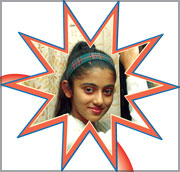 She is a student of Holy Family Convent, Bambalapitiya and is doing her Advanced level studies in Biology."Children are the most valuable treasure anyone can own. We should not celebrate a Children's Day only for one day in the year. All the children should get their rights and they should be treated well EVERYDAY. It should not be limited to a day.
"We are fortunate to be educated, and loved by our parents. However, there are children who are less fortunate, such as the children who are victims of war, the tsunami other natural disasters and poverty. We should get together and celebrate this day. I'd like to put a smile on the faces of these suffering children by singing for them.
That will help them to forget the sorrows at least temporarily because, music has the power to do so. I'm lucky that I have my mother to guide me through all my difficulties and helped me achieve this success.
I feel sorry for children who are not fortunate to live with their parents. I would like to make a kind request from all the children on this Children's Day; please obey your parents and be kind to every one. That blessing will come back to you during all your hard times in life".
Sandali Chaturika Welikanna
Profile: She acts as 'Nanduththara' in the film Uppalavanna. She is a student of Leeds International School, Panadura. Her first film was 'Samara', where she acted the main role of Samara when she was just eight years old. Uppalavanna is her fourth film.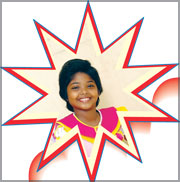 "I'm really happy about observing a Children's Day. However, we shouldn't be tied to a special day to treat children in a special way, because children are very special in society anyway.
They are the future generation. Everyone should take care of children throughout the year, not only on a special day. However, since it's being observed I really like to give a hearty meal for the poor and less fortunate children because it would make this day a very special day for them, then.
I got the opportunity to visit Kebithigollava, after the claymore mine explotion. There I met different people and made friends with them. They were very talented. The only barriers were that they didn't have the facilities and the guidance they needed.
I feel sorry for them. I wish at least from this Children's Day onwards, all the children in Sri Lanka would be given a happy and bright future. Most often people need to be jolted to face reality and perhaps Children's Day would help to do so."
Sarala Kariyawasam
Profile: Sarala is a student of Sangamitta College, Galle. Sarala's first film was Water; through this film, she won the World's Best Performing Child Actor award. This is the highest award any Sri Lankan child has ever won in any performing arts in the history of Sri Lanka.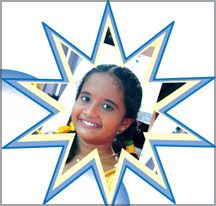 "Universal Children's Day is a very important day for the children. I hope on this day, people will also focus their attention on helping children who have talents, but are unable to develop them due to various reasons.
This will help the country to win more awards in this field. I have many friends who are talented, but unfortunately, they are not able to improve their talents because of studies. I feel very lucky to have parents who help me a lot, especially my mother.
Through the film 'Water', a harsh truth was revealed about the traditions in India which even affect children. I wish at least after seeing the film, people would think twice about acting against the wishes of children.
These days I'm acting in the film 'Abha' directed by Jackson Anthony. I'm acting as a princess. It's a wonderful opportunity. I'm feeling very lucky as a child. I never consider myself a special child. Someday, I'd like to be a doctor while continuing to act in films.
I wish all the children in the world are happy at least on Children's Day. I request all children to help the less fortunate children around them. Make them happy. This is the best thing you can do to celebrate this wonderful day dedicated to deal with issues related to children."