Honour your teachers
Teachers generate mixed feelings among different children. Some children just adore their teachers, while some don't look all that kindly upon them. Whatever you may think of your teachers, they, no doubt, do a great service to society.
Teachers not only educate children in the academic arena, they also guide them along the correct path in life.
After parents, teachers are the most precious adults in a child's life.
The role of teachers in society will be commemorated and honoured on October 5, when World Teachers' Day, spearheaded by the United Nations Education, Scientific and Cultural Organisation (UNESCO), is observed.
On this day, teachers get involved in various activities such as attending public meetings, and meeting and lobbying political leaders to draw attention to their role in society.
This year, the focus will be on teachers' working conditions. Better working conditions for teachers mean better learning conditions for learners. Teachers around the world are clamouring for:
* A decent working environment for both teachers and learners with appropriate class sizes and adequate resources;
*Regular salaries that allow decent living conditions;
*Equal pay and equal rights for women in the profession, capacity for decision-making;
*Initial and ongoing professional development;
*Involvement in policy-making; and
*Collective bargaining to defend and enhance teachers' rights. The Day was inaugurated in 1994 to commemorate the signing of the UNESCO/ILO (International Labour Organisation) Recommendation Concerning the Status of Teachers on October 5, 1966. Now the event is commemorated in over 100 countries.
---
A safe city is a just city
This is a rather busy week with many special events and days being celebrated. Another day that graces the calendar this week is World Habitat Day, which falls on the first Monday of October; this year, it is on October 1 (tomorrow).
The theme for this year is 'A safe city is a just city'. The main celebrations will take place in the Hague, the Netherlands, while major celebrations will also take place in Monterrey, Mexico.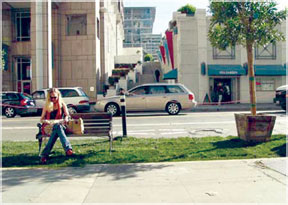 The theme was selected by the United Nations to raise awareness and encourage reflection on the increasing threats to urban safety and social justice, especially urban crime and violence, forced eviction (being thrown out) and insecurity of tenure (holding of accommodation), as well as natural and human-made disasters.
Crime and violence are some of the major causes of fear and insecurity in many cities today. Between 1990 and 2000, incidents of violent crime per 100,000 persons increased from 6 to 8.8.
Over the past five years, 60 per cent of all urban residents in the world have been victims of crime, with 70 per cent in Latin America and the Caribbean coming under this segment. Incidents of forced eviction are also reported quite frequently from all parts of the world.
These acts are often attributed to bulldozing of squatter settlements and slums, beautification and urban development. Freedom from forced eviction has been recognized as a fundamental human right, yet it keeps happening.
Disasters, both natural and man-made, are another threat to urban safety. Climate change has made such disasters more common place. Between 1975 and 2005, the number of disasters in the world increased from 100 to 400 per year.
These combined threats were what had motivated the UN to select the theme for this year. The activities of the Day are spearheaded around the world by UN-HABITAT, the Human Settlements Programme. The World Habitat Day was inaugurated in 1986.
---
World Temperance Day on October 3
Alcoholism is a serious problem around the world, especially in developing countries such as Sri Lanka. It has led to crime of a serious nature with many robberies and murders taking place as a direct result.
The evils of alcohol and alcohol dependency are highlighted on World Temperance Day which falls on October 3. Alcohol is made of a compound known as ethanol, and contains intoxicating properties.
In an average person, a concentration of 0.15 per cent alcohol in the bloodstream causes mild intoxication, 0.3 per cent causes definite drunkenness and partial loss of consciousness, and 0.6 per cent can endanger life. Since alcohol cannot be stored in the body, it has to be broken down in the liver, or in the stomach and kidneys.
In this break-down process, acetaldehyde, a highly toxic substance is released into the body and this substance can cause great damage.
There are many groups such as Alcoholics Anonymous in foreign countries as well as Sri Lanka who are working towards the minimising of alcoholism among a country's population. However, their efforts may not be successful if the people who have been caught in this trap do not have the courage and conviction to get out of that situation.
So, if you have any alcoholics in your family, you can try to coax them out of it. Explain that alcohol will not only rob them of their health, wealth, friends and relations, but also that their lives will be richer and happier for the lack of it.