Tomorrow is World Children's Day:
No genie to grant them their wishes
"Every child comes with the message that God is not yet discouraged of man" Rabindranath Tagore
Tomorrow is dedicated to children... tomorrow...many of them will be abused, molested, tortured, raped and dumped in gutters by their own parents or even be killed by the very people who gave them birth.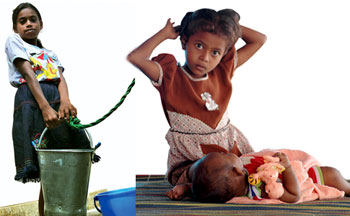 We are not talking about just one day either. It happens everyday... even at this very moment. These are not the happy-go-lucky children of parents who believe in sparing the rod to spoil them. These are the deprived, hard-knocked kids who try miserably to fit in, begging for affection. Even society rejects them after they are shunned by their own parents. They are neglected, battered and starved to death.
The horrors of child abuse, the secrecy, the shame, the struggle to survive and the harrowing pain these children have endured can hardly be fathomed.
Can you and I, the more fortunate people imagine being beaten regularly or punished severely by our own parents? Being burnt or gang raped? Or spending years of our childhood, cooped up in affluent homes with no news or even a phone call from family and friends? These kids truly suffer a great deal of emotional trauma as they lack what it takes to be normal - love and warmth...
It's been one year since the 15 year old Sewmini came to the Children's Home. Reluctant to even talk about her mother who'd left her when she was just eight months old, she says that she was brought up by her grandmother and other relatives. "I'd love to go and stay with my mother. Please don't let kids be stranded without parents...."
Thirteen year old Rathnamali's parents are divorced. Claiming to hate her mother who left them when she was only six, Rathnamali was raised by other people who weren't even her relatives. Desperately in need of love and care, she'd got into a relationship and was expelled from the school as a result.
"I didn't know I was too young for it. All I needed was some kind of attention or affection. I was very good at studies and sports, but I have lost of all it now. I'd love to be reunited with my father and I never want to see my mother. It's all their fault that I have to suffer like this and live in a place where I don't want to be. My parents are responsible for all the tears that I shed..."
Thilini is 13 years old and was put in a Home at the age of five by her grandmother who couldn't look after her. Then she was put to her current home after being separated from her bother." My mother's dead. My father remarried and my stepmother doesn't allow me to see him. I love dancing and I like it here. It's my home now."
Fourteen year old Vasanthi came to the Home in 2005. She was given to a house as a domestic at a very tender age by her mother.
"I haven't seen my mother in years. I lost my father when I was six. I like studies and hope to be a music teacher, when I grow up.I miss my mother and cry a lot."
Little Dhanuka lived on the pavement with his elder sister. School seems just a dream for the eleven year old boy who has never seen his parents. Claiming to like his 'Home', Dhanuka seems care free as he nibbles on a bun, "We were at a house where my sister was beaten up every day. One day the lady was very angry and slapped me. She burnt my sister's hand which immediately made us run away."
Chamali Nisansala is six years of age and has no parents. Just like any other six year old child, Chamali says she loves to play and watch TV, "Also I'd love to see my parents, but I won't go with them, I like it here..."
Fourteen year old Ranmini came to the Home in 2002. Raped by an elderly man at the age of nine, she has no other option but to stay hidden as the culprit's family has threatened to kill her. "My parents put me here so that nobody can harm me.
They've promised to take me back home after my ordinary level examination. I miss home a lot. I will join the forces when I grow up."
Sixteen year old Jayani was dumped in the home in 2003 by her mother. She, her brother and mother were physically abused by her drunkard father. "Eventually my mother put my brother and me to Homes where our basic needs are met."
Fifteen year old Manel has been in so many Homes before she came to her current home. "I've lived in Homes for 13 years. My father is blind and I can't even remember his face now.
I've hardly got any love from my parents. It's something that I'd give anything for. There are many children in this home who are just like me and I feel what's happened to us is very unfair. It affects us mentally."
The matrons of one of the homes say that these children suffer silent tears. "We have many children who are of all ages. They need the parental love and warmth which can't be substituted. They are different, stubborn and lack interest in everything.
We just can't fathom them at times as they are very aggressive. Although we've given them every possible facility they're never satisfied. Never happy, they feel inadequate especially when they see how other children of their age, in school are treated by the parents.
They throw their clothes when they are angry, as they don't seem to value anything. I guess this is what happens when they don't get what they truly deserve."
Speaking of the issue, Dr. Hiranthi Wijemanne, former chairperson of the Child Protection Authority (CPA) says that the institutions are definitely not the place for a child to grow up, "Every child needs parental love.
Today our children are at risk of violence all the time. Street children, child labour, corporal punishment.. it's multi-sectoral. They are vulnerable to abuse and exploitation everywhere. It's not necessarily the foreign paedophiles. Parents, Teachers and guardians can abuse a child. Some children are used for pornography. Parents, teachers, the police as well as children need to be aware.
The legal systems should be made child friendly to see that the child gets justice. The moment there's a change in a child's behaviour, parents should look deeper to see if the child is troubled. Children need to be protected wherever they are.
There's an enormous network to look into these matters like the CPA and the Probation Department but there are more things to be done.
A child should never be separated from his siblings and they need to live with relatives. However there may be situations like incest, child domestic labour, or an orphan who is not wanted by the relatives. That's when they should be sent to a home.
The home should try to bring them up like ordinary kids though and be given a vocational training after they complete schooling."
Instead of giving what they deserve, adults use children for various tasks. Begging, selling and trafficking of drugs, labour and prostitution.
Although the somewhat lucky ones get to live in homes, working with them is no cake walk. They have no computers, play stations or TVs. They have no homes, no combs, no shoes or genie to grant them wishes.
They've only got a mind full of rage and a dull ache in their little hearts because of the unspeakable things others have done to them.
Having done their time in hell, it's high time the world got to the front-lines of compassion for these dispossessed children. After all Rome wasn't built in a day!
(Children's names have been changed.)