Third death anniversary:
Gamini's words come true!
I sat to write a tribute to the memory of Gamini Fonseka, my uncle and friend with deep pain, the strain of which run through my veins. In him I saw a man with marvellous qualities. His life was devoid of hatred, anger, animosity and greed.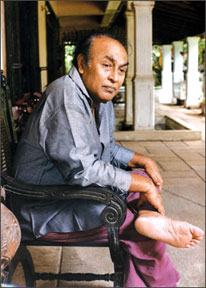 Though the country recognised him as the best actor ever produced in the annals of the Sinhala film industry, Gamini Fonseka was a man who honestly claimed that Joe Abeywickreme was the best actor in his view. "You people always claim that I am the best. But, I would say that it is Joe and not me", this great actor opined during a discussion with me a few days before his untimely death. That proved his sincerity, honesty, integrity and forthrightness in the expression of his thoughts and views.
Today, the question is how many in the film industry remember this illustrious man who once dominated the silver screen and led from the front to seek due respect and dignity for actors and actresses.
In an era where actors and actresses were treated like dirt by film producers, it was Gamini Fonseka who fought for the legitimate rights of his colleagues. There was a time actors and actresses were offered cheap lunch packets at locations to consume under the shade of trees.
Here, Gamini fought with producers saying that if he was offered meals at hotels, the same facility was a right of his colleagues. I do not know how many remember that past in their journey in life.
It is relieving that great men like Dr. Lester James Peries (mentor of Gamini), Dr. D.B. Nihalsinghe, Neil and Sarath Rupasinghe and yester year actors like Tony Ranasinghe, Joe Abeywickreme, Irangani Serasinghe, Neeta Fernando, Robin Fernando and Baptist Fernando yet recall and recognise Gamini's contribution towards the welfare of those in the industry. It's a stubborn fact that actors/actresses are born and not made.
Today, we live in an era where we witness people forcibly gaining entry into the screen at their own expense just because they feel they look handsome. In the bygone era, men and women of talent were selected for particular roles and characters.
When writing about Gamini, it is appropriate to talk about 'handsome' men coming into the industry at their own expense. I once asked my uncle Gamini Fonseka whether one should be handsome to enter the film industry as an actor.
He replied - To suit the cinema, a man should not be too handsome or too ugly but he should stand in between to be in the lead area. Of course, Gamini said that talented men and women irrespective of their ugliness could do better than the appearance of handsome and prettiness.
Leaving some of his views at that, I would now like to talk about the man Gamini Fonseka after his death. As I earlier stated, how many do remember him now. Not many. But some like his immediate family, relatives and the Foundation that exists in his memory.
As a career journalist and an editor, I decided to compile a book in his memory with selected writings on this great actor turned politician, who was once a Deputy Speaker of Parliament. My intention was to have it released today (30) to coincide with his third death anniversary. Details and procedure on how such a book should be given birth is common knowledge.
The book was to emerge as the maiden product from the Gamini Fonseka Foundation. While a few private banks and a State savings bank obliged sponsorships in a small way to meet the cost, other State institutions turned a blind eye to the official request from the Foundation.
A State enterprise which has a huge advertising budget that offers sponsorships even to musical events of no significance turned down the offer outright. When this was conveyed to a veteran actor of Gamini's era, in a soft filled with emotion, he questioned, 'If that can happen to Gamini who are we now and after death' The man Gamini Fonseka, of course knew about his country, the psychology and mentality of the people who live in it.
That was why he never expected anything from his nation and the rulers while he was alive. He decided to contribute to the nation and hold his head high. He had never been a burden on the State even at times of illness. He was a man who saved and invested in his small way to lead a life with dignity and honour.
Though many thought he was a man with thousands and millions in banks to his credit, those were hypothetical beliefs of people who never knew him closely. As a devout Buddhist and a father committed towards his responsibilities, he accomplished his obligations by his family and children to exist on a paltry saving he had for himself.
At times he had to utilize the interest that accrued to his only fixed deposit which was only few hundred thousand rupees. I could unfold these facts as I was a nephew who closely associated him. He however championed in his belief till his last breath.
Having known the talents, ability and capabilities of my uncle from childhood, I once told him that this country was too small for him and he should have been born in a country like India or America. This is what exactly he told me- "You are wrong son, the rulers of this country think I am too small for this country.
As I have stated many a time in my earlier tributes to this legendary actor, there is an issue he wanted to resolve before his death. That issue yet lies in the judiciary as the Appeal filed by him is now almost seventeen years old. It was fourteen long years at the time of his death.
That was why he called me to his residence at Ja-ela to discuss ways and means of having the matter expedited early even on a compromise between both parties. To arrive at that, I told him that some political influence was needed as the respondent was a State enterprise.
He agreed to make a request to the second in command of the country at that time. I undertook to explore other possibilities connected with the issue. His lawyer delayed the process by postponing the visit to his residence to discuss the issue. The lethargic legal eagle finally confirmed his visit to October 1, 2004.
Gamini Fonseka had telephoned me at my office and home on the morning of September 30 to spell out the details of the proposed visit and time of his lawyer. I was not available at both ends.
He had then told his aide Jayalath to remind him when he came down stairs for lunch to call me. Then uncle Gamini had called for the day's newspapers and climbed the stairway for his usual short nap after a late breakfast forgetting to take his medicine which was lying on the dining table. He never came down stairs on that ill-fated day.
Gamini Fonseka passed away peacefully in his sleep. And his lawyer had no reason to call at Gamini's residence the next day. His last wish is pending even after three years of his death. Yes.. Mr. Fonseka, as you believed our people have short memories that fade away in no time.
I agree with you, dear uncle of mine, that history seems to have insignificantly recorded that there lived a man called Gamini Fonseka and nothing more about you. Your belief was correct and that is why a book on you had got delayed and your last wish remains unresolved.
This is a tragedy of our times. You were a wonderful man who did your duty by your country and its people. I was privileged to have had an uncle and a friend like you.