Ms. Lanka 2007:
'Beauty for a Cause'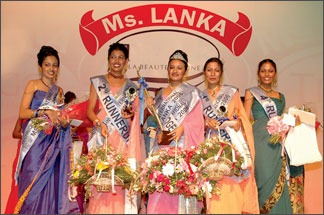 The search continues for the most beautiful girl who is over 17 years of age and a citizen of Sri Lanka. Marital status immaterial.
Ms. Lanka 2007 will be held on December 2, 2007. Official Hotel is Palm Beach Hotel, Mt. Lavinia official florist will be Sterling Flowers and computer services will be by Soft Logic.Hair and make-up is by the Team from Technique International while the choreographer will be Brembly Pradeep.
Media sponsors are The Sunday Observer and ITN.
The Coupon is also published in our sister paper-Dinamina. Closing date for applications is 5th October 2007.