Entertainment
A Maiden's Song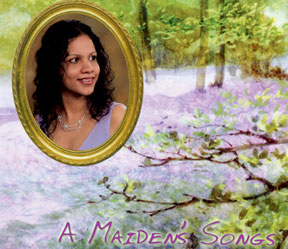 Call her a 'young crusader' in the Sri Lankan classical world of music and you wouldn't be far wrong. This is the first time I guess a young soprano singer has ventured out to make a CD of her artistry.
Amandi Ekanayake with piano accompaniment by the acknowledged Menaka de Fonseka Sahabandu has chosen an interesting and familiar collection of songs for her album 'A Maiden's Song', which music lovers will sure enjoy.
A mellifluous soprano Amandi's selection includes Bird Song at Eventide, Bacarolle from Tales of Hoffman by Oftenbach, Ave Maria, O Mio Babbino Caro, Piu Jesu, Rusalka's Song to the Moon and the well known Plasir d'Amour. She has included two selections from the musicals as well.
There's the poignant If I Loved You from Carousal and the haunting ballad Love Changes Everything from Aspects of Love sung sensitively by Amandi. Also included are The Rose, and Danno Budunge the latter given an interpretation different from the norm.
More young singers in Sri Lanka with remarkable talent in classical music should endeavour to record their artistry, because as is common in Sri Lanka their artistry is often lost to music lovers and posterity.
M.P.
---
Be spellbound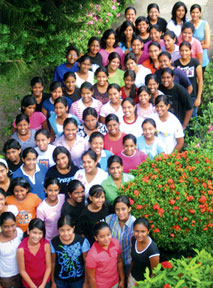 True to its title, Spellbound will do just that to the music loving audience. Staged by the Bridgeteen Choir for three days October 5, 6 and 7 at the Lionel Wendt, the choreography of this extensive musical has been planned out by the students themselves and directed by Ruwani Seimon, a 'charismatic' figure in the Sri Lankan music scene.Spellbound is a show of unity, binding the world in harmony.
The choir comprises 66 students ranging from the ages of 11-19 and they will be performing music from around the world, from semi-classical to Gospel, jazz, pop, rock and also a grand finale of a Sinhala medley that should not be missed.
Thoroughly committed, the students have experimented with and learnt different world languages to enhance the musical interest in this presentation of beautiful harmonized singing and synchronized dancing.
---
Pure elegance
It's a new experience in town! The comfortable familiarity of Long Feng has given way to pure elegance adding cuisine from Singapore to its array of world cuisine.
With a Master Chef Neow Kok Meng at the helm, every detail has been carefully crafted into eloquent Chinese sophistication at Trans Asia's signature restaurant now in a black and muted gold theme, and the characteristic high-backed chairs that they say lends towards long evenings of pleasure.
Meng with many years of experience from the topmost culinary establishments in Singapore, comments that the cuisine is actually a fusion of many culinary worlds and not necessary all from just South and East Asia.
Commencing last week, the Golden Dragon has taken on a fresh new look and a fresh menu, at the Taj Airport Garden. The restaurant also wears a more alluring and classy look in its warm ambience and striking decor.
The bright splashes of colour on select surfaces and striking artifacts add more depth and character to the restaurant. The new decor and a busy open kitchen entices you, with the exciting aromas wafting in the air as you walk in. Vegans will sure enjoy the special dishes created for them.