Business
Features
Editorial
Security
Politics
World
Letters
Sports
Obituaries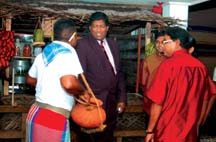 POT SHOT: "Sorry sir, but you can't have more!" the man with the pot of rice seems to be telling Commerce and Consumer Affairs Minister Ravi Karunanayake during a gourmet Rice & Curry promotion at the Grand Oriental Hotel, Colombo, on Friday. Curious, perhaps, as to where all the excess rice from this year's bumper harvest is going, the Commerce Minister presumably peered into the Bath Muttiya. Karunanayake was chief guest at the 'Katata Rahata Bath Velak' promotion at the Hotel's prestigious Harbour Room fine-dining restaurant. (Photo: Sudath Nishantha)

Presidential Commission on Buddha Sasana recommends
Bhikkus out of politics, rein on conversions
by Deepal Warnakulasuriya
The Ministry of Buddha Sasana is circulating for comments and implementation a historic report by the Presidential Commission on the Buddha Sasana which calls for, among other things, an end to the involvement of Bhikkus in politics, a strict regulation of the setting up of viharas, the rigorous enforcement of the Vinaya, and greater control over conversion of Buddhists to other religions.


Full story
SLMM scotches LTTE's new camp rumours
by P. Krishnaswamy and Eravur Gp.Corr.
Sri Lanka Monitoring Mission on Friday scotched rumours about the construction of a second LTTE military camp and said that the new building coming up in Ampara district was 'a conference hall'.


Full story
---
Other Stories