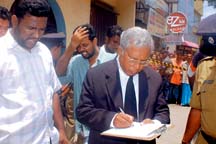 There was panic following the shooting of a man at Slave Island yesterday. The Fort Magistrate Sarath C. Perera is seen holding the Magisterial inquiry at the scene of the killing. Pic. by Tilak Perera

Child conscription :

Canada frowns on LTTE
For the first time in its history, the Federal Parliament of Canada has taken up the child conscription issue in Sri Lanka for discussion. The statement made at the Sub Committee meeting was significant because it was the first time that the issue of child soldiers in Sri Lanka was formally taken up at the Federal Parliament of Canada, a press release issued by the Foreign Affairs Ministry stated.


Full story
'Let us renew our strength and hope'
President Chandrika Bandaranaike Kumaratunga in her Easter message today called for renewal of strength and hope so that "we may rise above this devastation, in unity".


Full story
---
Other Stories